FILE FORM 1099 ONLINE IN EASY STEPS
Start for Free
In brief, Set up your free account with form1099online.com within 2 minutes. To begin with, file form 1099, register one account for any number of Payers, and file throughout the year. TRY FOR FREE NOW AND pay when you submit forms.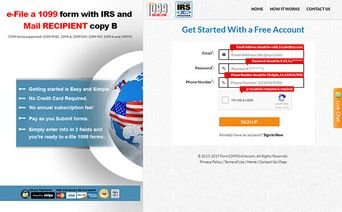 Select Form
Select the exact 1099 Form that you need to file. Such as form 1099-MISC or 1099-INT or 1099-K or 1099-DIV etc. Click on the Start New Form button to select the appropriate 1099 form. Together with e-Filing, We support downloading and mailing 1099 tax forms online. Also, You can key in data directly to a 1099 tax form or import data via an Excel spreadsheet. Once a form is submitted, you can track your 1099 track status on the E-filing history or submitted forms page. Furthermore, to print PDF copies, or download 1099 forms to email recipients
Enter Information
Enter Info of the payer, recipient, and form amount. Over there, you have to enter Form 1099 information. Next enter the Payer info or if you have an existing Payer select payer from the drop-down. Secondly, mention the Recipient information, or you can also select the recipient from the dropdown box if you have an existing Recipient for the select payer. Finally, enter the Form 1099-MISC info between Box Number 1 – 14. Also, click on Save and Continue to proceed further with your filing.
Pay & Submit
Select the filled form and submit. Here complete your 1099 form filing needs. Also, Please select the payer and click continue to submit forms to IRS. All the selected payer's forms will be transmitted to IRS
Download & Print
On this page, you will have the access to Download all the submitted forms. You can also check the IRS filing status of all the submissions.